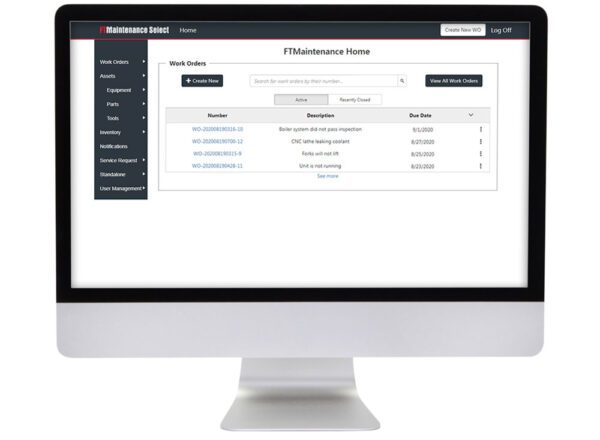 Today, FasTrak SoftWorks, Inc. has officially released FTMaintenance Select – an all-new computerized maintenance management system (CMMS) solution – designed for modern industrial maintenance professionals who require real-time access to their maintenance data. FTMaintenance Select delivers a powerful suite of features for managing work orders, equipment and facility assets, MRO inventory, preventive maintenance, and other maintenance resources.
Cloud-based FTMaintenance Select will allow teams to access their maintenance data from any internet-connected device. Speaking about the benefits FTMaintenance Select will provide to customers, FTMaintenance Product Expert Dave Dulak said, "The FTMaintenance Select platform has been designed to be future-proof for our clients."
Market Opportunity
Industrial automation is essential to meeting the challenges, and leveraging the opportunities, of global urbanization. For over 30 years, FasTrak has been helping organizations across the world better serve their communities and markets with software products for PLC programming, file change management, and maintenance management.
The introduction of FTMaintenance Select demonstrates a deep commitment to helping organizations improve maintenance operations, reduce asset and facility downtime, and continuously improve products, services, and processes. "FTMaintenance Select is going to address the needs of industrial companies, organizations involved with facility management, companies that manage distributed assets, and third-party maintenance providers," says Dulak. Industries served by FTMaintenance Select include manufacturing, facility and property management, food and beverage, government, healthcare, oil and gas, pharmaceuticals, power and energy, water, and many others.
This new product launch is driven by the following market factors:
A commitment to customers: FasTrak is dedicated to providing high-quality maintenance management software to a global user base.
Technological convergence: The line between CMMS and Enterprise Asset Management (EAM) software is becoming more and more blurred. While EAM and other enterprise solutions often lack satisfactory maintenance management functionality, the gap is quickly closing.
Competitive landscape: The need for "one stop shops" for maintenance and asset management solutions is growing rapidly. Historically, this has added cost and complexity to product offerings. Maintenance teams in all organizations desire simple, easy-to-use, integrated software solutions.
FasTrak believes FTMaintenance Select is well-positioned to meet the needs of an evolving maintenance management market. "FTMaintenance Select is uniquely built to easily change and adapt to the ever-changing requirements of customers, which protects their investment into the future," says Enterprise Architecture Manager Mohamed Elbendary.
FTMaintenance Select Platform
FTMaintenance Select is more than just a powerful CMMS product – it's an entire software platform that will allow organizations to easily scale their maintenance operations as their business grows. This platform enables FTMaintenance Select to expand through connections to other business and productivity applications. "FTMaintenance Select integration connectors enable customers to automate workflows and share data with other departments and organizations, such as customers or business partners," says Elbendary.
FTMaintenance Select CMMS will be expanded with companion mobile applications, making it a perfect fit for today's highly-mobile maintenance teams. Organizations with advanced maintenance operations will be able to extend FTMaintenance Select with an Application Programming Interface (API), enabling the flow of critical information between FTMaintenance Select and other applications including:
Business intelligence applications
Custom and on-premise applications
Field devices and the Industrial Internet of Things (IIOT)
Document and file management applications
Enterprise resource planning (ERP) software
Other third-party applications
Learn More About FTMaintenance Select
FTMaintenance Select is a feature-rich, easy-to-use maintenance management solution delivered on a flexible, web-based platform. FTMaintenance Select is designed to rapidly evolve, adding new features and functionality, performance enhancements, and other improvements. Users automatically receive all product updates. Contact us to learn more about FTMaintenance Select.